Making changes to your shift, such as the pay rate or the start and end-time, will vary upon your shift's booking status.
If your shift has already been booked:
Please contact customer support to make any changes to a shift that has already been booked so we can help you coordinate the changes with our healthcare professional.
If your shift has not been booked:
Step 1: Open the Clipboard Health app (desktop only)
Step 2: Locate the calendar on the left menu bar
Step 3: Select the shift's worker type above the calendar



Step 4: Select a date on the calendar
Step 5: Select the shift from the right-hand menu to see a drop-down with the shift's details.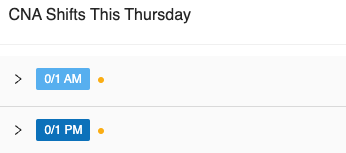 Step 6:
To change the shift's pay rate, select "Edit Shift Rate".
To set a new start/end time, select "Remove shift" and re-list your shift.