After a worker has booked a shift at your facility, you can verify the documents they have provided including: State Licenses, PCR COVID Test status, Driver's License and more.


Step 1: Open the Clipboard Health app on your computer (Requires "Admin" or "Documents" role.)
Step 2: Locate the calendar on the left menu bar
Step 3: Select the worker type above the calendar

Step 4: Select a date on the calendar
Step 4: Select the shift from the right-hand menu to see a drop-down with the shift's details.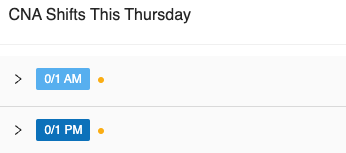 Step 5: Select "View Docs" to view the worker's documents.