In addition to learning how to book a shift, understanding the booking process will help you have the best experience using our platform.
This guide covers the following topics:
Types of shifts
When browsing for shifts, you'll notice there are 3 tags listed below the dates.

These tags indicate the type of shifts that are available for that date. Note: Facilities may list custom shifts which will vary from the hours below.
AM = Morning shifts (7:00 AM - 2:00 PM)
PM = Swing shifts (3:00 PM - 11:30 PM)
NOC = Night shifts (11:00 PM - 7:00 AM)
After selecting a date, you'll see how many shifts are available for each shift type.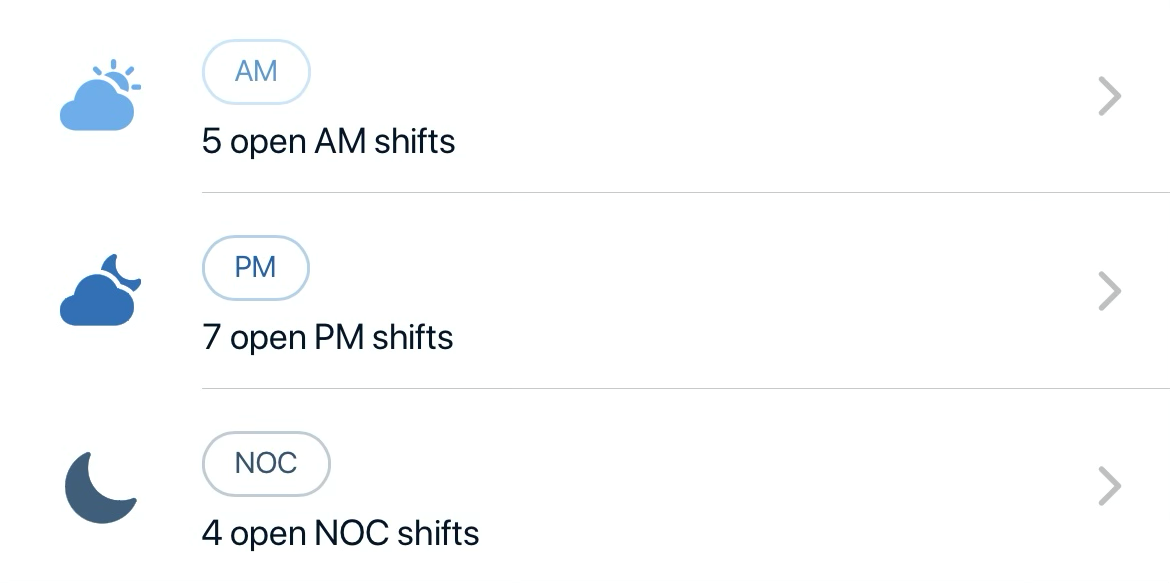 Understanding shift details

Each listing includes everything you need to know about a shift:
Start-time, end-time, and total hours.
Hourly pay rate
Payment type (InstantPay vs Standard)
The facility's name and address
The distance from your location
Extra Time Pay (Not available on all shifts)

Confirmation buttons:

Book This Shift = You're eligible to book this shift.

Upload Required Documents = Additional documents are needed.
InstantPay vs Standard
You will see that some shifts display an "InstantPay" badge next to their listing while others do not.
Most shifts are eligible for InstantPay by default, but you'll need to make sure your location services are enabled in order for it to work. Learn more about InstantPay to make sure you're paid Instantly.
InstantBook vs Booking
Nearly all facilities have InstantBook enabled, which means a shift is all yours the moment you book it. However, some shifts will go through our standard booking process which requires additional action from the facility.
If a shift has InstantBook enabled, you will see a message to Book which immediately makes the shift yours.
If a shift does not have InstantBook enabled, you will see an option to Request the shift only.*
*This requires a manual confirmation from the facility. Please wait for confirmation.
Urgent Shifts
An Urgent Shift is created when a healthcare facility is in need of a healthcare professional on short-notice. These shifts are generally available closer to typical start times for AM, PM and NOC shifts and are paid at a premium rate since you are covering a last-minute vacancy.*


*Location Services must be enabled in order to see and book Urgent Shifts. Learn more about Urgent Shifts by reading our article here.
Importance of Location Services
The features in our app work best when location services are enabled. This means getting paid instantly through InstantPay, having access to higher-paying Urgent Shifts, and effectively coordinating with a facility will require that you enable Location Services first.


You can learn more about how Location Services work with our app and how to enable the feature here.