This guide covers how to check when late cancellation pay and sent-home pay are available for a shift.
How does late cancellation pay work?
Shifts canceled more than 24 hours before the start of the shift are generally not considered Late cancellations and will not be eligible for any payouts.
Late cancellation pay is only available for shifts at workplaces that offer this rate when the workplace cancels a shift in the given timeframe. You can see which rates are offered and when by checking the workplace's profile in the Clipboard Health app.
If you would like to know more about cancellations, please read Workplace canceled my shift.
How does sent-home pay work?
Sent-home pay is available when it is offered by that workplace. How much is offered will vary from place to place, and it's important to check the rates offered at the workplace before you decide to book a shift.
For more information about being sent home from a shift, check out I was sent home by the workplace.
To see how to manage your sent-home requests, take a look at Managing your sent-home requests.
Where can I see if Late Cancellation and sent-home pay are available?
The workplace profile has lots of useful information, including what rates are offered and when. To view a workplace profile, tap on the name of the workplace when viewing a shift. For late cancellation and sent-home pay information, tap Cancellation Payouts in the workplace profile.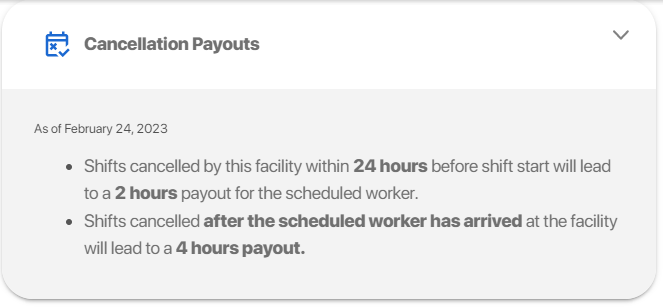 How do I see my sent-home requests?
You can see your Pending requests under My Shifts.
You'll receive a chat notification when a request is approved or rejected.
Click here to see more about sent-home requests.
What if I am sent home after I have started working?
If you have already worked a number of hours before being sent home, Clipboard Health will ensure that you are compensated for the number of hours worked. To ensure this is processed, please get a compliant timesheet signed for the hours worked. If the hours worked exceed the time you were compensated for, please get in touch with our support team.
Reporting a payment issue
Please contact our support team to report a payment issue related to cancellation or sent home pay.