Work with Friends
allows you to book shifts with other professionals you know, and like working with.
How do I use Work with Friends?
Work with Friends allows you to see how many other workers are needed for a shift, book shifts with other professionals, and invite friends to work alongside you.

While browsing shifts, you might recognize some friends and colleagues from previous shifts. If you enjoyed working a shift with someone, you can add them as a friend and share individual shifts with each other.
Working with friends generally leads to workers receiving higher ratings from facilities. Through Priority Access, workers with high ratings from facilities have earlier access to high-paying shifts than workers with lower ratings do.


What is the difference between a friend and a colleague?
Friends are other workers who you want to work with. These are the workers who you know are team players, and whom you want to work with on a regular basis if possible.

Colleagues are workers who you may or may not have worked with previously. Think of colleagues as "other users of Clipboard Health."


How do I add a friend?
You can add friends by tapping on "My Account," and then "Work with Friends," here you will see a blue button that says "Add a Friend." Tapping this button will give you a link that you can send to your friends.


The more friends you add, the more likely you are to find shifts to work together- and remember working together usually means higher ratings from workplaces, and earlier access to high-paying shifts for workers!
Learn more about managing your Clipboard Health Friends, here.


Can every shift be worked with a friend?
Not all shifts can be worked with a friend. A shift is only eligible for Work with Friends if the workplace has requested more than one professional for a shift. About 80% of shifts are available to work with a friend!

Will I get to work on the same assignment as my friend?
Usually, yes, you will. However, Clipboard Health can not guarantee that. Many facilities want to have consistency in their assignments, so it is possible that you will often work alongside the same professionals. Some (especially larger) facilities will have multiple floors and need to assign professionals to help out on different floors or units.
Where can I find shifts that I can work with colleagues?
When you view the information about a shift, you will be able to see the pictures and names of other professionals who are already booked for a shift. If you have worked with any of these other professionals during the last 30 days, you will see that in the shift information card.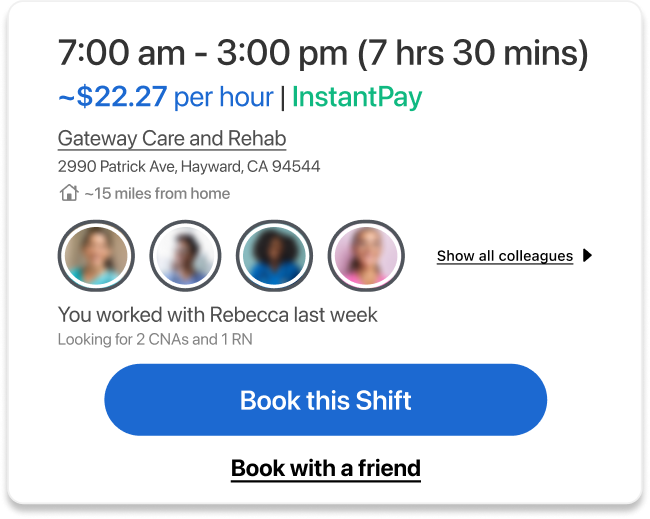 You can also tap on "Show All Colleagues" and see all professionals who are booked for a shift.

If no other workers have claimed a shift, you will see how many other professionals the facility is looking for.


Where can I find shifts that I can work with friends?
You can see when your connected friends have booked shifts on your calendar. You will see a round blue "friends," logo on the days when a Clipboard Health connected friend has a booked shift.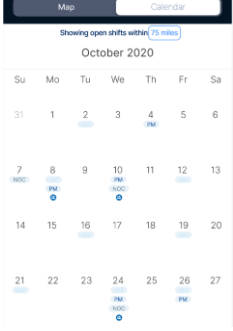 When you tap on the date, you will see what time of day your friend's shift is booked at: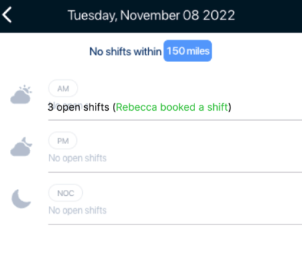 How do I invite a colleague to work a shift?
Below "Book this Shift" you will see a link to "Book with
a Friend" tapping this will open the share options from your device.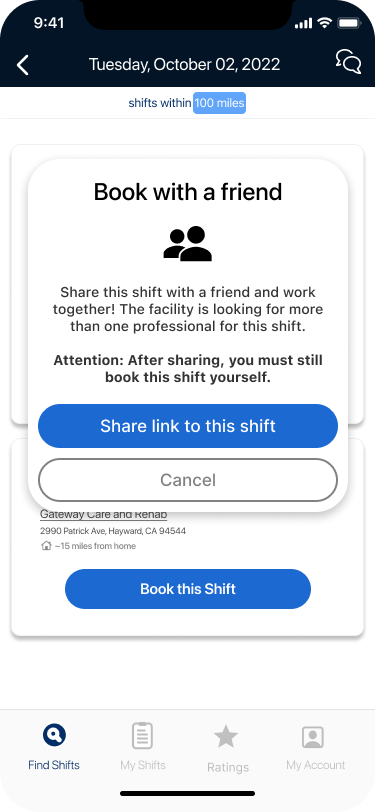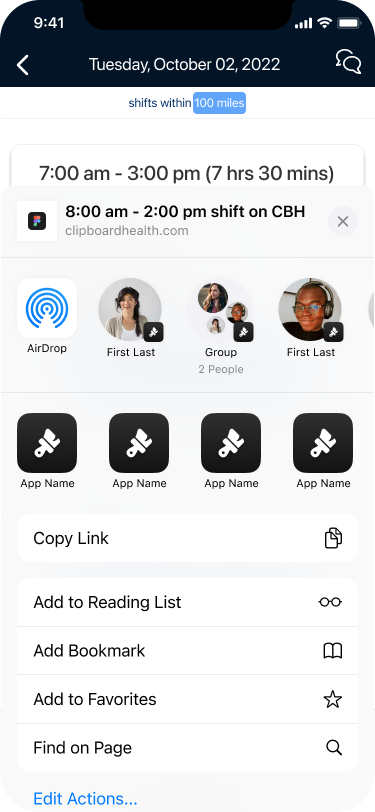 Can I invite friends who aren't on the platform?
Yes. If a friend doesn't have the app installed, they will be directed to the App Store / Play Store. Clicking on the shift link will not automatically lead to a referral code being applied, so be sure to send your referral code as well. When you do use a referral code, or someone uses yours, they will automatically be added to your Friends list. You can remove a Friend at any time, however adding Friends allows you to expand your network, click here to learn more.


Why do I have to include a picture?
We want workers to build trust and camaraderie with one another- we think putting a name to a face is the first step to doing that!
Photos should be current and of your face. Photos with no filters are encouraged.

How do I opt-out of being shown to others?
If you do not want others to see the shifts where you are booked, you can opt-out of this feature at any time.
Tap on "My Account" in the bottom right corner
Tap "Profile".



At the bottom of this screen, you will be able to toggle "Hide me as a colleague on shifts"