Priority Access gives highly rated workers early access to a facility's shifts. This feature gives professionals and facilities more control over their schedules.
How does Priority Access Work?
When you have Priority Access at a facility, you will see a facility's shifts a maximum of 6 hours before other workers do. You will get Priority Access at facilities where you have earned a 4 or 5 star rating. This means that you can have Priority Access to one facility and not another.
You may gain temporary Priority Access at a facility that has not yet rated you if the facility does not have enough highly rated workers. To have temporary Priority Access, you must have worked at least 2 shifts at the facility, have a high attendance rate (i.e you can cancel no more than 1 out of 5 shifts booked at the facility) and have 0 no call no shows at the facility. If the facility rates you 4+ stars, you'll continue having Priority Access to that facility's shifts; if they rate you less than 4 stars, you'll lose Priority access to their shifts.
How will you know that you have Priority Access?
Be sure to turn on your push notifications so that you'll get notified when Priority Access shifts are available. You can enable this setting by navigating to My Account → Privacy and Notifications → Notification Preferences. You will see which days you have Priority Access shifts for in your calendar. If one or more Priority Access shifts are available for a specific date, the relevant timeslot will be highlighted in purple on your calendar.
Priority Access shifts will appear at the top of your open shifts list and include a countdown that indicates the time until your Priority Access expires. If Priority Access expires, and the shift has not been booked, the shift will then be available to other workers.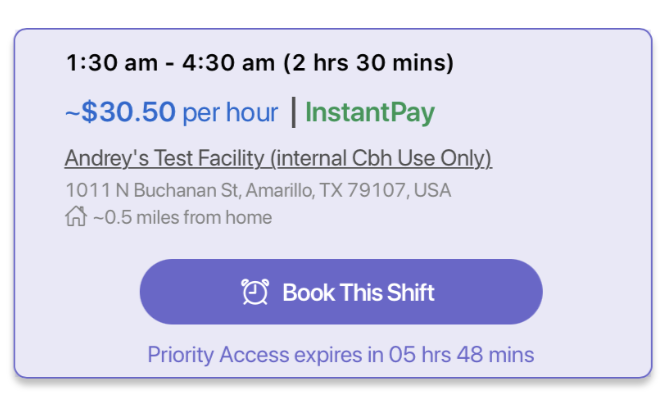 I am getting a notification for Priority Access shifts, but why I am not seeing Priority Access Shifts on my calendar?
If you are having this issue, please review the filters that you have on your calendar. This would mean changing what license type your calendar is set for, and adjusting your distance preference. If you are viewing your calendar with the license filter Cook, the Priority Access shifts are likely to be found under a different license type.
Can you lose Priority Access?
Yes. You will lose Priority Access at a facility if the facility lowers your rating to less than 4 stars, or if the facility puts you on their Do Not Return list.
Where can I see my star rating?
At this time, professionals cannot see their star rating from facilities.
What happens to my Priority Access if I am Suspended?
Once you are re-enrolled, you will continue to have Priority Access at any facility where you hold a 4+ star rating.